Volunteering has shaped the Saudi community in all its aspects; from helping the environment to reaching out to those in need, it stands as an important pillar to the making of our society. According to AlJazeera Newspaper, volunteering is the act of donating parts of oneself voluntarily, which includes time, effort, money, expertise, or information without expected compensation. Although they vary from community-led volunteering services to self-initiated acts of kindness, they are the reason why we're as tightly-knit as we are today. Volunteering is what turned young Saudi leaders to becoming great pioneers, which is why it should be a key element to one's lifestyle. A report from the Saudi Press Agency notes that volunteering enriches a society's philanthropic efforts, leading them to create a strong bond of loyalty and compassion. 
Saudi Arabia has fewer than 1000 non-profit institutions and associations. We can also see a development of its infrastructure and regulations to make everyone benefit from the development sector. In addition, there is government support for programs that serve the social aspects of the country, training workers, and attracting those wishing to volunteer in those fields. Saudi Arabia is focusing on revitalizing the non-profit sector in the areas of housing, health, education, research, programs and events. One notable date is the 5th of December, which is known as the Saudi Volunteering Day that has been widely celebrated within the last 3 years.
This goes without saying that volunteering is woven into the very fabric of our society, which is an essential element to the Saudi renaissance noted within the last few years. In 1960, social aid and volunteering was institutionalized through the creation of the Ministry of Labor and Social Affairs (Currently, Ministry of Human Resources and Social Development). Moreover, prior to the unification of the Kingdom, family charitable funds would volunteer and provide aid to help their community. Volunteering is as vital as any other form of labor, and it varies from education, health, social development, and caretaking those with special needs—like the disabled, the elderly, the orphaned, and the widowed. The practice has been well-implemented within the Saudi system of labor, which enforces the idea of giving back and creating a stronger link between one another.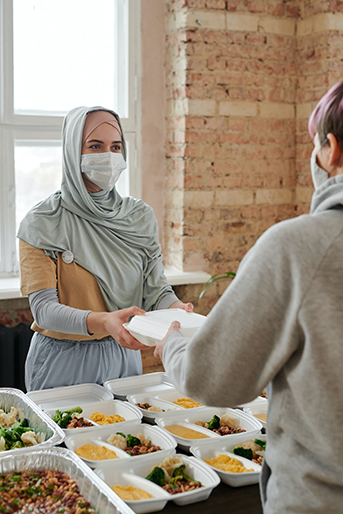 Such opportunities have been initiated by programs governed by Saudi entities. Some are included in the following:
The Ministry of Human Resources and Social Development National Volunteer Portal, where it stands as an umbrella platform that covers countless volunteering opportunities, making it a database for those interested in improving their leadership skills or giving back to one's community. The portal amassed one million volunteers, which aligns with the Kingdom's 2030 Vision of volunteer work and sustainable development.
Takatuf is a Saudi non-profit organization which serves to promote volunteering and taking initiative. It reached more than 30,000 volunteers in various fields and industries. Takatuf focuses on building a sense of nationalism, community, and teamwork within the practice of volunteering.
The Saudi Red Crescent Authority has launched a volunteering platform that offers a wide array of opportunities to ensure health education within the public sphere. It is also the main resource to volunteering at Hajj and Umrah, making it the official space for recruitment and operations. The platform has its own database that has collaborated with government entities to normalize volunteering in the Saudi society. 
Taking note of the focus on volunteering in Saudi Arabia, one would realize its importance in building the foundations of its society. With the bloom of organizations and individuals taking initiative, one can only see it as a constant that grows higher. Saudi youth have taken interest in volunteering since the beginning of its history, and it will continue to grow as more of them take lead.